Covid care initiatives
Ultimates Care Trust
COVID CARE INITIATIVES
The societal initiative during COVID pandemic started with the coordinating committee of 12 members across Tamil Nadu and Karnataka to reach out to the needy and under privileged who had unprecedented challenges in the lock down. It was truly humbling to reach out to the Police Personnel, Health care workers, Frontline Workers to help them fight the pandemic. Reaching out with the helping hand to the Migrant workers and daily wagers was indeed a thoroughly gratifying one and with utmost modesty we are grateful to have impacted close to 20,000+ lives.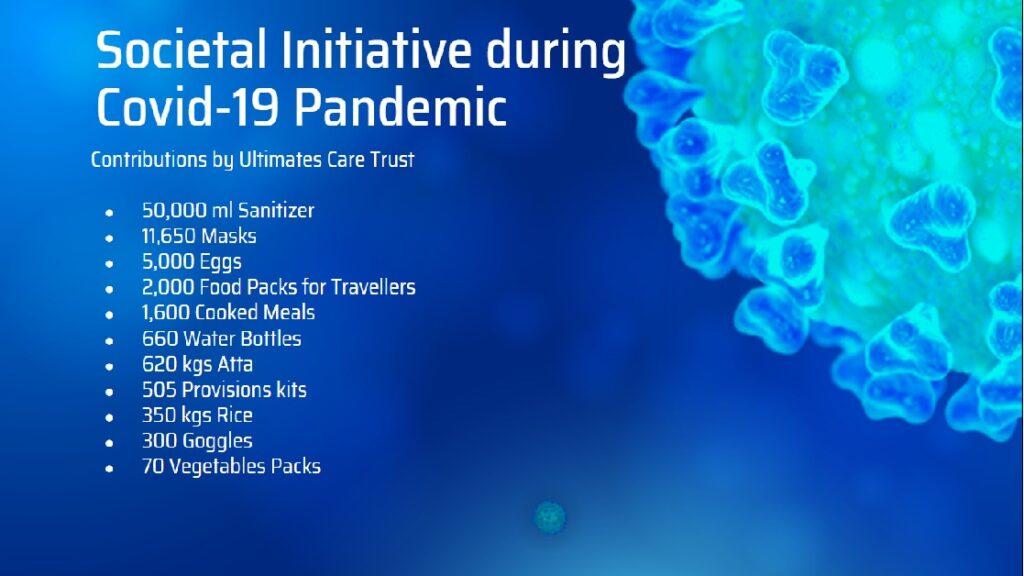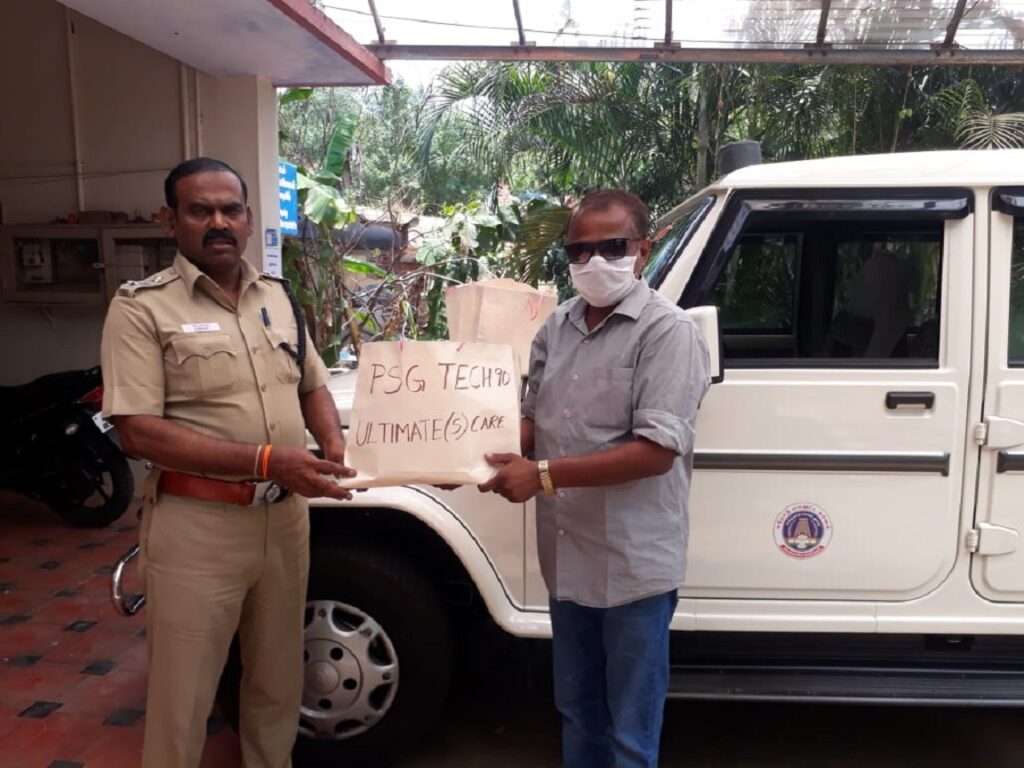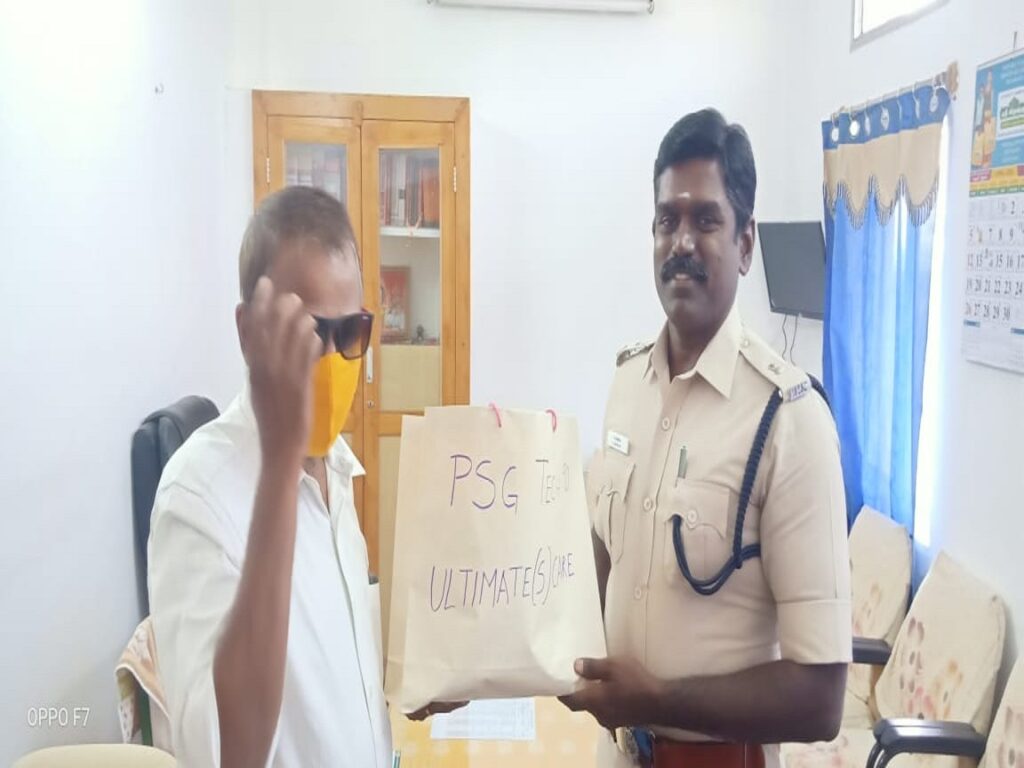 SUPPORT TO POLICE PERSONNEL
The very first project was to focus on Masks, PPE – Personal Protection Equipment – which were in shortage and hence UCT's COVID Care initiatives started with resourcing these items and reaching it to Government staff, Health Care workers and Police Personnel who were sweating their heart out in fighting the pandemic. The Police Personnel needed much energy and strength to safeguard the public and in creating awareness among the public and hence their daily protein needs were taken care by delivering eggs to them in Coimbatore. Total of 11,650 masks were delivered to various locations in Tamil Nadu like Coimbatore, Chennai, Dharmapuri, Erode, Kothagiri, Krishnagiri, Tuticorin and Ramanad to name just a few.
SUPPORT TO HEALTH CARE PERSONNEL
With utmost respect and due diligence we salute the Health Care Professionals – Doctors, Nurses, Para medical staff, Conservancy workers. Their hard work and commitment during the COVID times calls for a special mention as they braved the tough situation risking their own lives. While the whole nation was locked inside the house, they marched out to save the lives of millions. We too at Ultimates Care Trust extended the possible support to the Health care workers by providing them N-98 masks, PPE suits, provisions and cooked meals. Conservancy workers from Ward #22, Saibaba Colony, Coimbatore were provided with Provision kits. Safety Googles were supplied for Hospital staffs and front line workers at Coimbatore.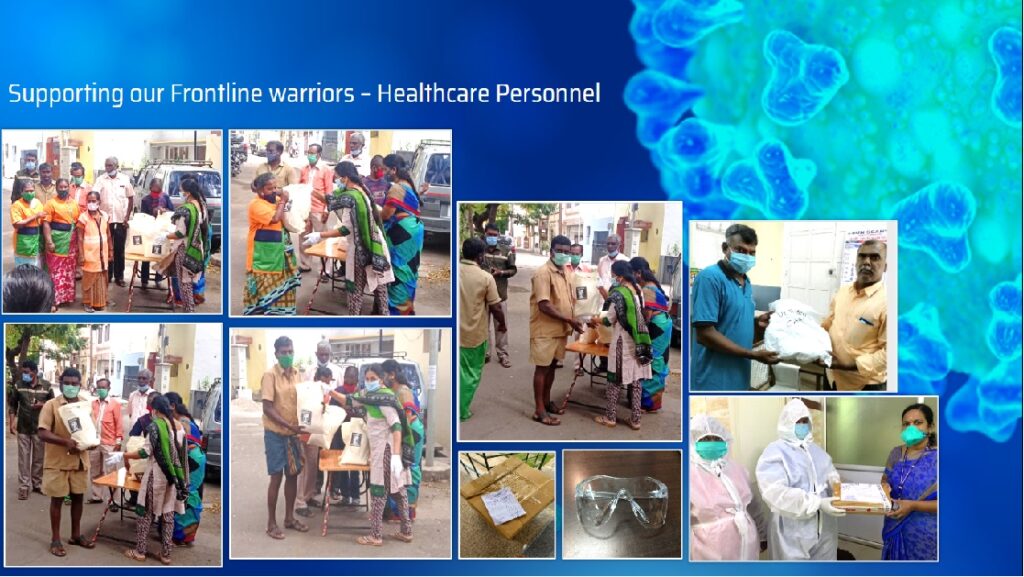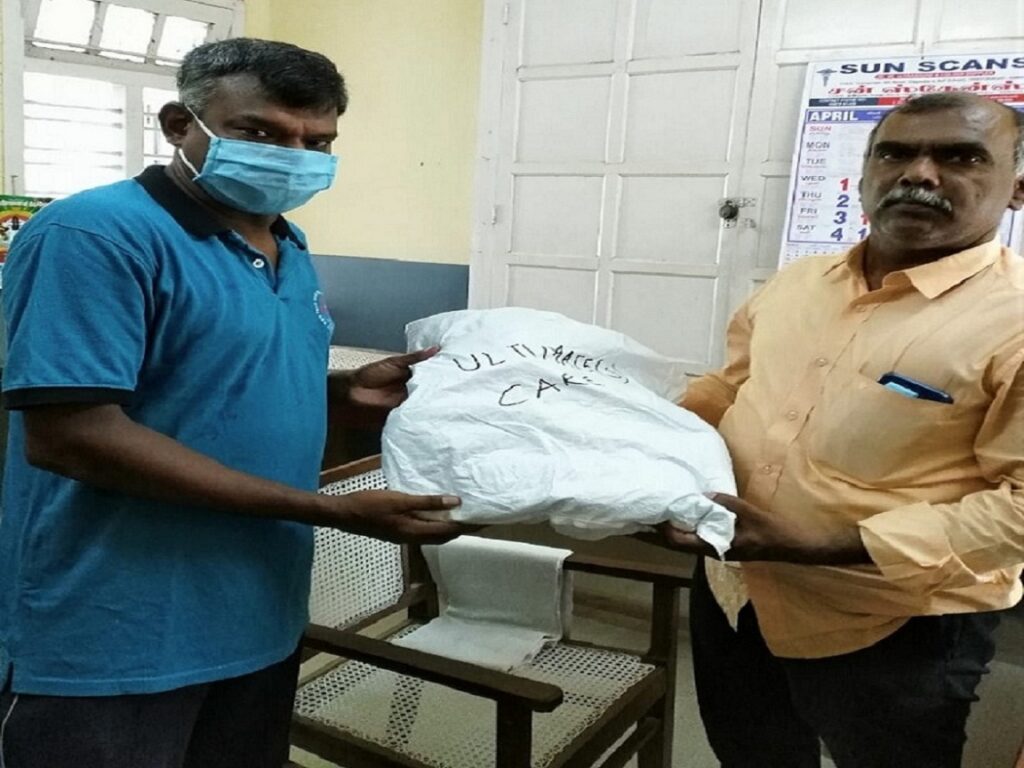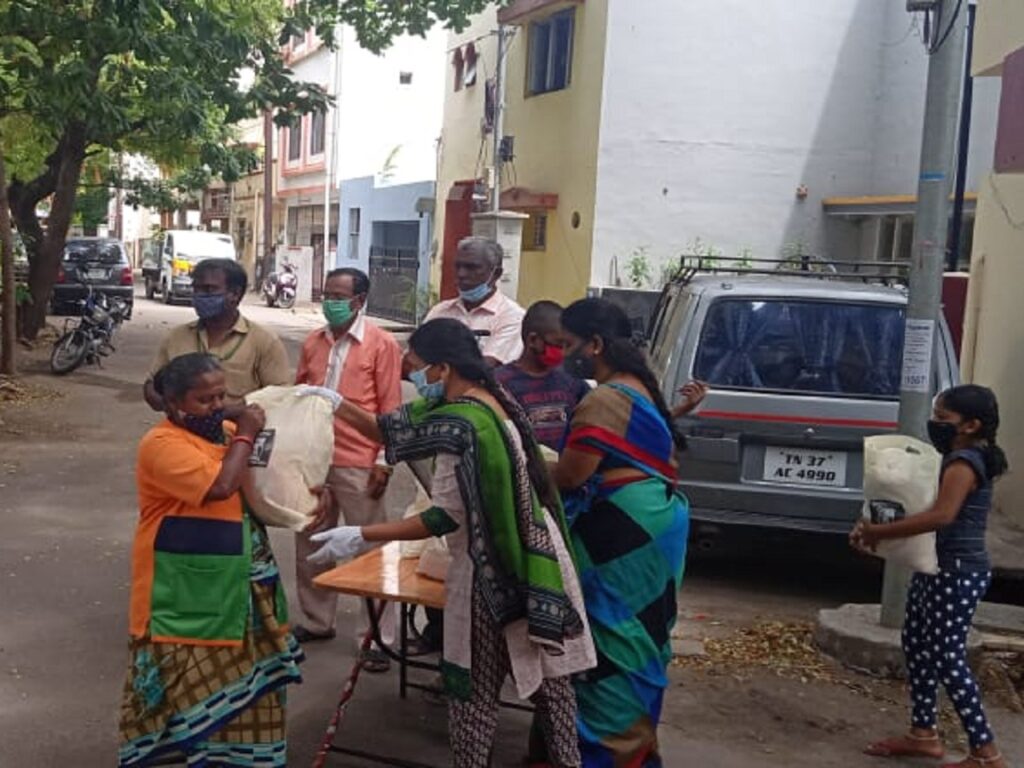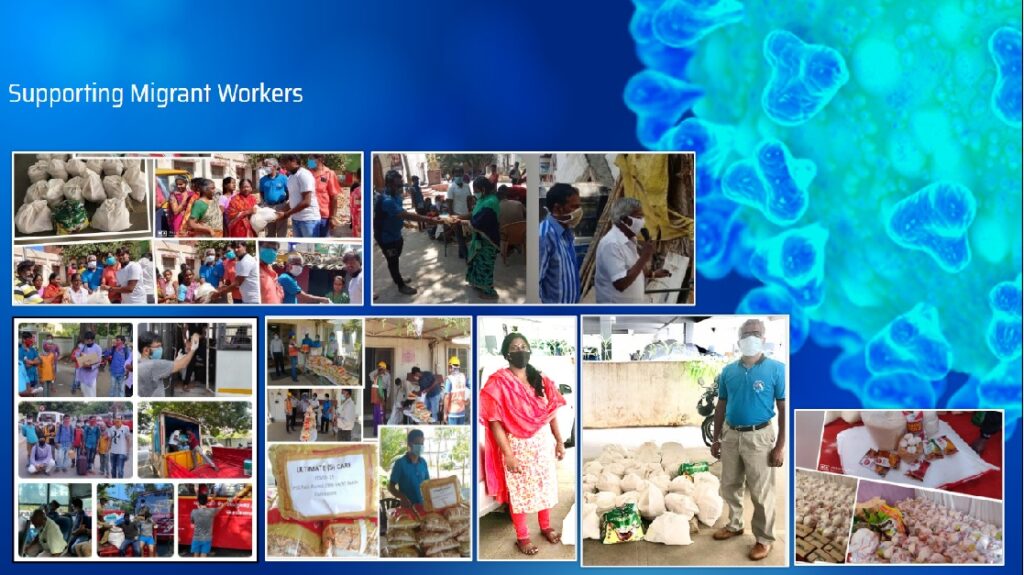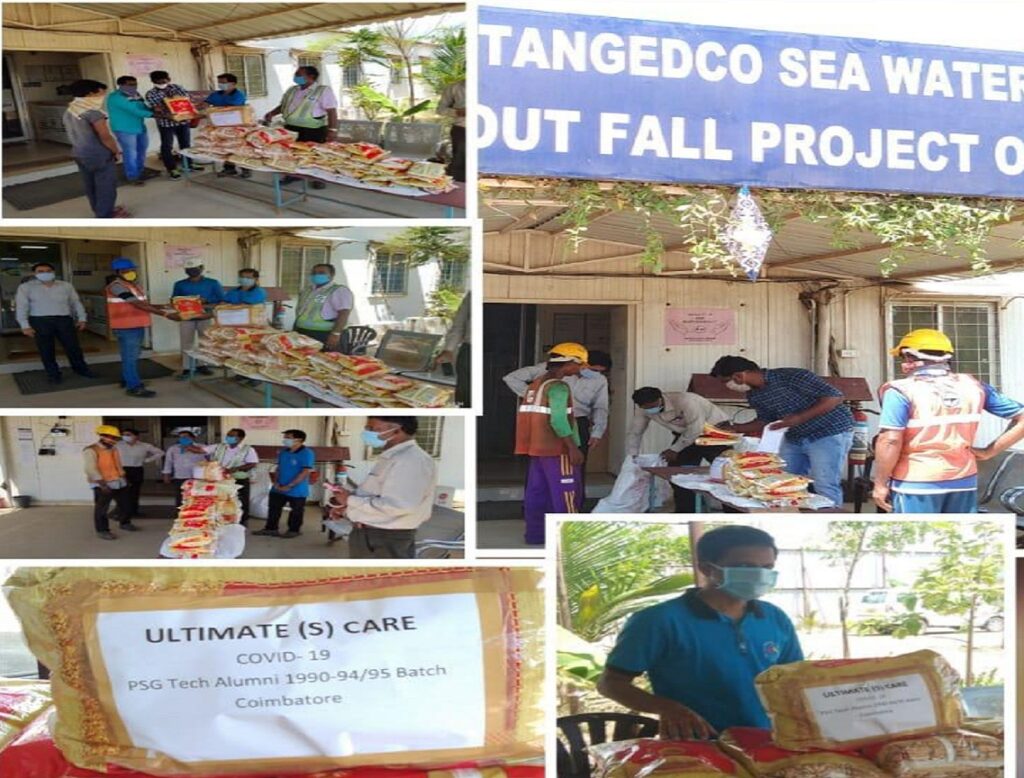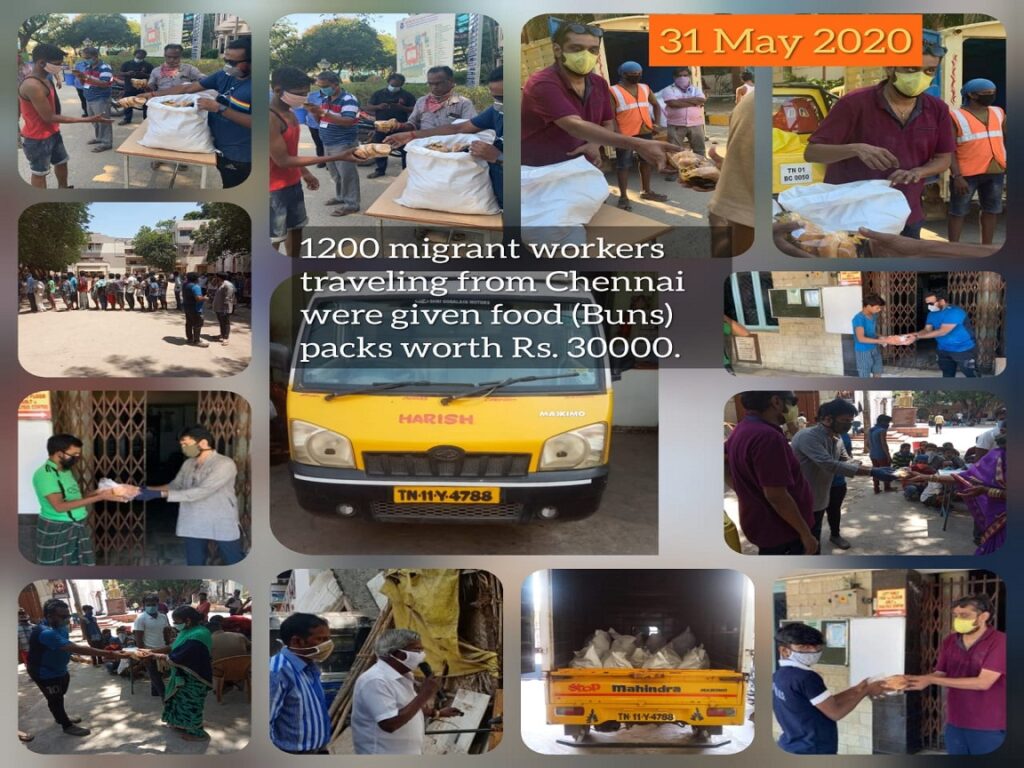 SUPPORT TO MIGRANT WORKERS
The woes of Migrant workers moved us all and shook our collective conscience as millions of them set on foot walking across the length and breadth of India. Because of the lockdown imposed in India, these workers are all forced to face the challenges of loss of income, food shortage, uncertainty about future. We at Ultimates Care Trust immediately swung into action to provide the stranded labourers at Ramanathapuram District provisions such as Atta. Later when Central Government started operating trains for the labours, we extended our support to workers travelling by train from Bengaluru and Chennai.
SUPPORT TO DAILY WAGE WORKERS
The impact of COVID crisis on health was just one side of the coin, the other side wherein the impact on the socio-economic structure was even more disturbing. Globally we witnessed heart wrenching visuals of discrimination, hunger and poverty taking its toll on the needy and underprivileged section of the Society. But we at Ultimates Care Trust was not a silent spectator and we did extended our support in every small and possible ways we could. Auto drivers, weavers, farmers, domestic help, villagers from Chennai, Nagapattinam, Avinashi, Madipakkam, Kangeyam, Indonesia benefited making our Charity activities during COVID so much more meaningful and gratifying.